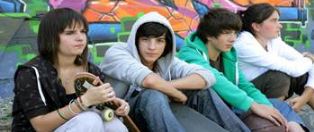 The aim of this App is to identify young carers in Renfrewshire who are not receiving support. Please listen to your carers describing their experiences and the support they need.
If you know of young carers please show them some of these videos and encourage them to complete the short questionnaire in the Getting Help section. They will then be contacted to discuss what help could benefit them.
Click on this link BBC Newsround to view the experiences of several young people and the caring they do
Renfrewshire commitment to young carers
Peter MacLeod, Director of Children's Services, describes Renfrewshire's commitment to ensuring young carers are supported in their caring role, have access to the same opportunities as other young people who do not have a caring role and to have the opportunity to reach your full potential.
Pauline Kelly, Development Worker describes the importance of identifying young carers in the community.
Young carers and staff at the Young Carer's Centre describe the help and support that they find benefits them.
The Young Carers' Service is here to support you and would like to hear from you.

Please click here to provide some basic information about yourself. Someone from the Young Carers' Service will receive your information directly and contact you.